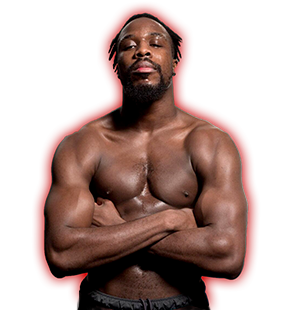 (VIEW RECORD)
Height
DOB
07/30/1989
Age
28
Birth Place
Brussels (Belgium)
Stance
Pro Record
12-2-1, 7KO's
Division
cruiserweight
---
Born July 30, 1989 in Brussels (Belgium), to
Congolese and Cuban parents Tambwe Djeko, better known by his boxer name 'Big Joe,' is ready to leave his mark in boxing.
With a record of 14 fights and 12 victories including 7 by way KO, Djeko stands out for his massive frame and powerful skills.
Being the third of five siblings, and having suffered from the absence of a father, it was from an early age that he had to assume the role of head of the family.
After a few years in martial arts, he chose to turn to boxing where he proved himself, and became professional in the cruiserweight weightclass in 2011.
Djeko uses a hard jab and great footwork to get to his opponents, where he then finishes them with power in both hands.
In 2014, he won his IBA Intercontinental World Semi-Finalist belt in Belgium. In 2015, at Don Turner's Arapahoe camp in North Carolina, where Larry Holmes, Evander Holyfield and the Tiozzo brothers were trained, he perfected his boxing for 8 months.
In 2016, he faced off in a duel with Craig Kennedy in a world semifinal in Cardiff (UK) where he dropped Kennedy two times but ridiculously lost by split decision.
In 2017, supported by his manager Yassine Maatala he signed with Joe DeGuardia's Star Boxing. Having noticed his potential, he will help him to fulfill his ambitions thanks to his Star Boxing structure in New York.
The ambition of Big Joe is to fight against the top of the Cruiserweight division, to knock them out and to become world champion. Aiming for the top, by knowing his abilities, he is determined to achieve his goals.
Djeko is determined to fight one day on the land of his ancestors in Congo and to walk in the footsteps of his predecessor.