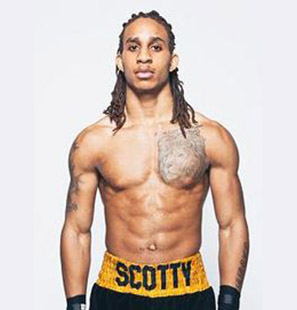 Scott Burrell
(VIEW RECORD)
 Nickname
 Bang Bang
Height
DOB
08/08/1988
Age
28
Birth Place
London, England
Stance
Orthodox
Pro Record
12-3, 8KO's
Division
Lightweight
BIO
Dean and I were born 8/8/88 in Queens, NY. We moved to England where my mother grew up at the age of 2. Both of my parents are Jamaican. We lived in England from 2 years old to 21. We both graduated from Roehampton university in South London with bachelor of science in Business studies and Sports science. Our first main sport was Football (Soccer) which we competed at a high level throughout our early teens, we began boxing at age 11 and juggled both sports for a while but eventually decided to pursue boxing.
Amateurs
We were both 5x London champions, Dean was national champion and 3x national finalist and Scott 2x national finalist, both won Haringey International box-cup in 2009.
Scott amateur record 59-10
Dean amateur record 64-9
Interest and future
Scott
My main focus and lifetime goal is to become and world champion and make a historical name in boxing. I'm married and want to build a family in the coming years, I want to set up a prosperous future for my future children and current family, I'm also a Football (soccer) fan and my team is Manchester United . After boxing I would like to own my business, perhaps in boxing but not limited to boxing. After boxing I would love to give back to the sport in some way, teaching the younger generation and helping kids who may not have the greatest opportunities in life to get those opportunities needed in sport and life.
Dean
I'm a football fan (soccer) and my team is Liverpool. I enjoy spending time with my family and friends and traveling. After boxing I'm not 100% sure yet, but I think I owe it to the sport to give something back, either training, managing or promoting fighters. I would also  like to be involved in helping under privileged families in England, Jamaica and America in whatever way I can.