LAWTON, OK
FRIDAY, JUNE 6, 2014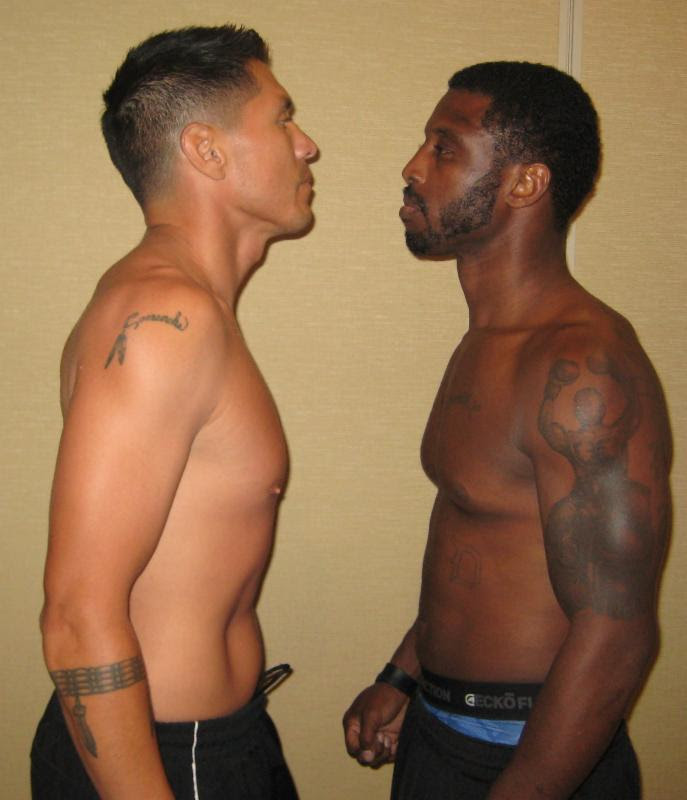 Star Boxing's middleweight contender, 'Comanche Boy' George Tahdooahnippah steps back in the ring as the boxing main event today, June 6, 2014 in Xtreme Fight 19 at the Grand Casino Hotel Resort in Shawnee, OK. Xtreme Fight Night combines world class boxing, MMA, and championship kickboxing on the same night. Tahdooahnippah and Codale Ford both weighed in at the Grand Event Center in the Grand Casino Hotel Resort, Shawnee, OK. The bout will be contested at 168lbs Super Middleweight  limit.
"This is my first fight at 168lbs in a few years and I feel great. I feel strong and confident as always. I will take care of business and win. I never take anyone lightly, but I will pick him a part, then put him down. I am ready for war," said Tahdooahnippah.
WATCH THE NEW "Comanche Boy Motivation" video on YouTube!!!
Comanche Boy and his team ready for war at the Grand Casino Hotel Resort
Tickets are $35, $55, $65 and ringside tables for $600.  Tickets can be purchased at the Grand Event Center box office in the Grand Casino Hotel Resort, in Shawnee, OK, 
www.grandboxoffice.com
, or by calling 
(405) 964-7263
ABOUT STAR BOXING:
Star Boxing, Inc. has been in operation since1992.  Star Boxing has worked to produce some of the most exciting and memorable boxing events in recent history. Star has continued to work with and develop a number of very exciting world champions, world rated contenders and young prospects. Star has consistently brought credibility, integrity, and exciting fights to the boxing industry.  For more information on Star Boxing, visit their official website at
www.StarBoxing.com
 and follow them on 
twitter.com/starboxing
 and
Facebook.com/starboxing