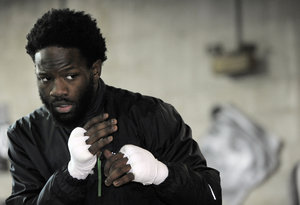 On a frigid Thursday morning in late January, Emanuel Taylor was swinging at shadows in the ring at Charm City Boxing, headquartered in a warehouse tucked away in an industrial park in White Marsh.
As he got his morning workout in — he would return that evening for another — big black-and-white photos of boxing greats such as Mike Tyson, Sugar Ray Robinson and Muhammad Ali eyeballed him.
With the temperature in the teens, a few men with connections to Taylor or the Baltimore boxing scene huddled around a space heater and chatted as the speed and intensity of Taylor's punches picked up. Everyone in the gym seemed to have a story to share about how they or someone close to them could have been something special.
Taylor, a 5-foot-7 light welterweight contender, is still writing the story of his budding boxing career. The next chapter, which comes Friday night in a nationally televised bout against undefeated Chris Algieri, could go a long way in determining whether his is a story of glory or if he will end up just another talented former boxer left to talk about what might have been.
"A lot of people want to box, but they don't want to sacrifice. They just see the glamour. They don't see the hard work that goes into it," said David Sewell, his longtime trainer. "I wish him the best because he put in so much to get where he is at. Other kids do, too. But this kid put in a lot. This kid put in a whoooooole lot. We were at the bottom and worked our way up."
Taylor has been putting in hard work for months preparing to fight Algieri, a former kickboxer who has 3 inches on him, in Algieri's hometown of Huntington, N.Y. Those in Taylor's corner hope the fight, which will be featured on ESPN's "Friday Night Fights," will put him in position to box for a world championship.
On that Thursday morning, Taylor was in constant motion, dancing around the empty ring on the balls of his feet. The boom box in the corner blared the hip-hop and R&B jams on 92Q, so he couldn't hear the men talking near the space heater, though he knows all about a story one was telling.
Taylor's older brother, Maxell Jr., was once was a slick southpaw with plenty of promise, just like Emanuel. But his professional career was stopped when he served separate prison sentences for drug dealing and robbery. The troubles of his other brother, whom he looked up to as a youth, helped sharpen Emanuel's resolve.
"He just got into trouble and got locked up," Taylor said, his voice even softer than usual. "When he came out, he was no longer the same. I saw how he got into trouble, so me, I learned from his mistakes and stayed on the right path."
His father, Maxell Sr., a veteran of the Army and a Maryland Hall of Fame boxer, first dropped Emanuel into the ring when he was 3, in part because he hoped that it would keep him out of trouble when he got older.
"He kind of worried me when he first started out. He didn't really want to box that much when he was younger," Maxell Sr. said. "Then he saw his older brother doing it, so he started to get into it. Then he saw himself winning and he kept on winning and winning [as an amateur]. Now, he's close to winning a [professional] belt. I'm very proud of him."
Once he got hooked on boxing, Emanuel spent most of his time outside the classroom at a boxing gym. When he got to high school, Taylor wanted to try out for the Edgewood high school football team, but his father, whom he calls his best friend, didn't want him to split his focus.
"I had no type of real childhood because I was basically just boxing," Emanuel said. "I never really went out. My dad really disciplined me, so now that I'm older, it really pays off."
Taylor turned pro in 2009, the same year he graduated from high school. He has compiled a 17-1 professional record with 12 knockouts, the only loss coming in a controversial split decision against Prenice Brewer in 2011.
He has won his past three fights. In his most recent one last March, he pulled himself off the mat and rallied to knock out Victor Cayo in the eighth round.
"That showed in a definitive way that he has heart, that he got off the floor and wound up winning the fight," said ESPN boxing analyst Teddy Atlas, who will be a part of Friday night's telecast. "That's something you want to see if you do get in that situation."
Atlas likes Taylor's versatility as a fighter and his power, but he was puzzled that Taylor didn't use it to assert himself in his loss to Brewer, who he feels was overmatched. Atlas also expressed concerns about Taylor's ability to go deep in a bout — he has never had to fight beyond eight rounds as a pro — and wondered why he has gone 11 months since his last fight.
Still, Atlas believes a decisive win Friday night would help Taylor, who is the International Boxing Federation's sixth-ranked junior welterweight fighter in the world, move closer to a championship bout against Lamont Peterson of Washington. Danny Garcia, Taylor's onetime sparring partner, is the belt-holder in both the World Boxing Council and the World Boxing Association.
"You could call it a crossroads fight for him, especially because he already has one loss," Atlas said. "If he wins an exciting fight, it will go a long way in moving him along, forward in his career. It's that simple."
Taylor carries himself with a quiet confidence, and as he prepares to face Algieri, he prefers to let his fists do the talking. After all, the introverted 23-year-old got his nickname "Tranzformer" because he transforms into a live wire once the bell rings.
But he is excited to climb back inside the ring and is eager to show the bigwigs at HBO and Showtime and whoever else tunes in that he is ready for a title shot — all while representing Baltimore.
"It means the world to me, coming from the little town of Edgewood," he said. "It means the world to me. I'm putting Edgewood on the map. Coming from a small town, everyone sees that I'm doing good. Hopefully that's inspiring people to do better, too."
Earlier that morning, as Taylor's punches cut through the crisp January air as he shadowboxed in the ring at Charm City Boxing, Sewell, a former professional boxer himself, couldn't help but reminisce about how far Taylor has come and dream about how Taylor might soon write the rare tale of a local boxer who punched his way through to the top.
"He's special. He's got all the tools. It's just up to him now," Sewell said. "He has to go get it. He is right there. He is riiiiiiiiight there, man."
twitter.com/mattvensel
About the fight
Emanuel Taylor (17-1) vs. Chris Algieri (18-0)
Junior welterweights, 10 rounds
The Paramount, Huntington, N.Y.
Friday, 9 p.m.
TV: ESPN2
By Matt Vensel, The Baltimore Sun