In front of another Standing Room Only crowd at The Paramount in Huntington, New York and a nationally televised audience, Joe DeGuardia's Star Boxing brought an action packed evening to  ESPN FRIDAY NIGHT FIGHTS/"ROCKIN FIGHTS 14″.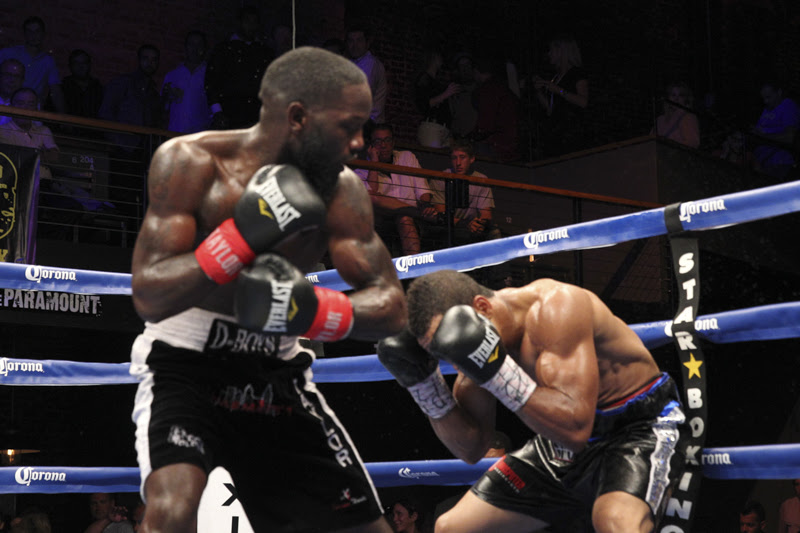 In the main event of the evening, world ranked junior welterweight EMAMUEL "The Tranzformer" TAYLOR got back in the win column with a dominating ten round unanimous decision win over KARIM "Hard Hitta" MAYFIELD.   Although knocked down in the eighth round, Taylor was in control of the action throughout the fight winning by scores of 97-92 and 95-94 twice.   With the win Taylor improved to 18-2-0 (12KO's) while Mayfield fell to 18-2-1 (11KO's).
The scheduled eight round junior welterweight clash between popular fan favorite, CLETUS "The Hebrew Hammer" SELDIN and veteran BAYAN "The Mongolian Mongoose" JARGAL lived up to it's billing of an action packed fight throughout the first three rounds.
With Seldin pressing the action against the hard punching Jargal, the heads of the combatants clashed resulting in a bad cut over the right eye of Jargal.
As the action came to a halt at the end of round 3, Jargal stated that he was unable to continue and the bout was declared a disappointing No-Contest. Seldin's record remains at 13-0-0 (10KO's) while Jargal's stays at 17-5-3 (11KO's).
As part of the evening's festivities, newly crowned WBO Junior Welterweight World Champion CHRIS ALGIERI was honored for his epic performance against then champion Ruslan Provodnikov on June 14 in Brooklyn and telecast on HBO.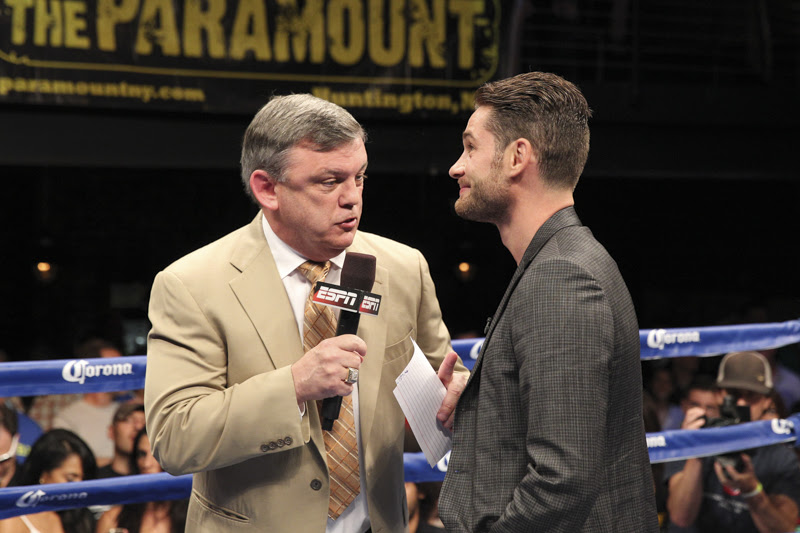 In the nationally televised opening bout, local fan favorite ANTHONY KARPERIS impressively dominated veteran ARIEL DURAN over four rounds, winning a unanimous decision by scores of 39-37 on all three judges scorecards.
With the win, Karperis of Hicksville, New York improves to 7-2-0 (3KO's) while Duran moves even to 7-7-1 (4KO's).
Super middleweights saw action in the fight of the night off-TV as Union City, New Jersey's
JASON "Monstruo" ESCALERA defeated Sweden's  NAIM TERBUNJA
decision in an outstanding slugfest, which had the huge crowd on their feet throughout.With the win Escalera improves to 14-2-1 (12KO's), while Terbunja, 7-1-0, suffers his first defeat.
In a battle of undefeated junior middleweight prospects, Huntington's WENDY TOUSSAINT, 5-0-0, won a six round unanimous decision over COURTNEY PENNINGTON, 7-1-1 (4KO's), by scores of 58-56 on all three scorecards.
FIGHTS
ESPN Friday Night Fights presented by Corona Extra will begin at 9 p.m. ET live on ESPN2, Watch ESPN and broadband Spanish-language ESPN Deportes+.  ESPN Deportes will re-brand its coverage as Noche de Combates (formerly Viernes de Combates) with some telecasts on Saturdays.
ESPN2 Commentators/Studio:
Blow-by-blow commentator Joe Tessitore and ringside analyst Teddy Atlas will return to describe the action for ESPN2. Both are recipients of the prestigious Sam Taub Award for Excellence in Broadcast Journalism presented by the Boxing Writers Association of America (BWAA): Atlas (2001), Tessitore (2010). Studio host Todd Grisham (@GrishamESPN), will return for his second season providing all the latest boxing news and highlights. Bilingual reporter Bernardo Osuna (@osunaespn), who last year became the series' first-ever on-site reporter, will contribute to Friday Night Fights in English, and Noche de Combates (Fight Night) in Spanish.
ESPN Deportes Commentators/Studio:
Delvin Rodríguez will call the fights with Pablo Viruega for Noche de Combateson both ESPN Deportes and ESPN Deportes+, while Leopoldo González and Claudia Trejos will anchor the studio. Hall of Fame referee Joe Cortez will join Trejos and González in studio throughout the season, with Osuna providing reports and interviews.
ABOUT STAR BOXING ®    
Star Boxing Inc. celebrated its 20th Anniversary in 2012. The company has produced some of the most exciting and memorable boxing events in recent history. Star Boxing continues to work with and develop a number of very exciting world champions, world rated contenders and young prospects. Star Boxing is proud that is has consistently brought credibility, integrity, and exciting fights to the boxing industry.  For more information on Star Boxing, visit their official website at www.StarBoxing.com and follow them on Twitter @ Star Boxing and Facebook at Star Boxing.
ABOUT THE PARAMOUNT:
Opened September 30, 2011 this 1,555-capacity live entertainment venue, located in downtown Huntington, Long Island, New York, features; concerts, comedy, boxing, community and other special events in a club/theater setting.  With over 30,000 Facebook fans, The Paramount was recently ranked by Pollstar Magazine as the #24 highest attended club-venue worldwide (January-June 2013). A Ticketmaster venue, booked by Live Nation, TheParamount hosts nearly 200 events per year and in less than two years since its inception, has quickly established itself as the premier music venue onLong Island, NY. Some artists who have recently taken the Paramount stage include; Billy Joel, Pitbull, Don Henley, Willie Nelson, B.B. King, ZZ Top, Counting Crows, Primus, Matchbox 20, The Blues Brothers, Limp Bizkit, & many, many, more.
ABOUT THE FOX HOLLOW:
Nestled upon 8 private acres of Long Island's north shore is the Fox Hollow, which features a state of the art event venue, fine dining restaurant and an all-suite luxury boutique hotel. Owned & operated by the Scotto Brothers, their Above & Beyond philosophy in providing each & every guest with superior services and amenities is paramount. Visit the Fox Hollow online atwww.TheFoxHollow.com & www.TheInnAtFoxHollow.com
Official Sponsor of the Paramount Boxing Series, Camelot Limos is a family owned and operated business located in Nassau County, with over 25 years of professional experience; serving satisfied clientele since 1984. The owners of Camelot Specialty Limos are very active in the business and play a major role in the company's day-to-day operations. Camelot Specialty Limos, Inc. is an Accredited Member of the Better Business Bureau.  www.camelotlimo.com
ABOUT WBAB 102.3:
WBAB 102.3 is the home of Long Island's Classic Rock anchored by their Long Island Rock 'N' Roll Morning Show with Roger and JP.  For more information or to listen online, visit their website at
www.wbab.com and follow them on Facebook.com/1023wbab and on Twitter @1023wbab.
MEDIA CONTACTS
Star Boxing
pr@StarBoxing.com
Bernie Bahrmasel

  Powerplay International
      Your Social Media Marketing and Website Design Agency
      "Carrying Your Message Around The World"
  40 Underhill Boulevard, Suite LL101, Syosset,  NY 11791
  Bus: 212.359.1608 |Cell: 516.924.1464 | Fax: 215.754.5050

***All press releases are available in word and pdf documents.  Contact pr@starboxing.com if needed.***
Any attached Photograph(s) may only be used for news, information or promotional purposes and only for the period commencing on the date of this e-mail and ending 90 days later (the "License Period"). Any other use and any use after the License Period is strictly prohibited without permission in writing from Star Boxing, Inc.  All inquiries should be addressed to Star Boxing, Inc., 991 Morris Park Avenue, Bronx, New York 10462.
Copyright © Star Boxing, Inc. 2011 All Rights Reserved.
Star Boxing
Media and Public Relations