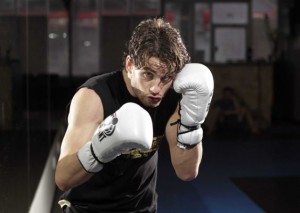 It will be a local boxer, with a loud and local crowd, featured on national television Friday night. ESPN brings its "Friday Night Fights" series to the Paramount in Huntington to televise Chris Algieri against Emanuel Taylor in a 10-round junior welterweight bout.
It is the fourth time in a little more than two years that promoter Joe DeGuardia has enticed a national television network to air live from the Paramount. The previous networks have been Showtime, NBC Sports and Azteca.
"It starts with putting on good fights," DeGuardia said. "But throughout this process, we've been portraying the Paramount for exactly what I believe it is — the best boxing venue in the country. It started with Chris. That's the reason we went there. But now we are selling out shows even when Chris doesn't fight. It's not the biggest venue, but you can feel the passion. The local fans are great, they support boxing. The networks just love the atmosphere and ESPN will love it, too."
Friday will mark the eighth consecutive appearance at the Paramount for Algieri, who is from Huntington. Taylor, from Baltimore, fought at the venue last January, scoring a sixth-round TKO on Showtime. Taylor, 17-1 and ranked No. 6 by the IBF, represents Algieri's toughest opponent to date.
"This is just the kind of fight I've wanted, against another top prospect with national exposure," said the undefeated Algieri (18-0). "I was at Taylor's win over Raymond Serrano last January and I'm very aware of how tough he is. There's already a great buzz about this fight."
Algieri, perhaps Long Island's biggest ticket seller, has already sold out his allotment for the fight. The St. Anthony's High School graduate has had some of his biggest wins at the Paramount. He decisioned former top-10 contenders Bayan Jargal and Mike Arnaoutis in front of his hometown fans.
"This is an excellent nationally televised matchup of young, hungry junior welterweights with a lot to gain," DeGuardia said. "Chris has made The Paramount his home with his electrifying hometown performances. This will be his eighth fight in the venue, all wins and all sellouts."
DeGuardia has big plans for Friday's winner and said he already has contacted the representation for WBO junior welterweight champion Ruslan Provodnikov for a possible May title fight on HBO.
"If the winner lands a fight with Provodnikov," DeGuardia said, "once you put yourself in that situation, you are basically one fight away from Manny Pacquiao."
Other Long Islanders on the card include Anthony Karperis, Alan Gotay and Wendy Toussaint.
Originally published: February 11, 2014 5:14 PM
Updated: February 11, 2014 6:33 PM
By ROBERT CASSIDY  [email protected]