The Long Island boxer Chris Algieri has agreed in principle to an offer to face superstar Manny Pacquiao in Macau, China Nov. 22, finally consenting to a deal that seemed to be slipping away over his apparent displeasure with the money involved.
Bob Arum's attorney plans to draw up the contracts on Wednesday or Thursday and have them signed by the respective fighters, Arum of Top Rank, who promotes Pacquiao told the Daily News.
"All terms have been reached and we're looking forward to a great fight in November," said Joe DeGuardia, who promotes Algieri.
The difference over money was resolved after an initial offer rumored to be between $1.5 and two million was "tweaked" to Algieri's satisfaction, DeGuardia said. Specific terms of the deal were not disclosed but Arum said, "They sweetened the deal for him. I offered an amount that I thought was fair and the question was how they were going to divide it up."
The bout is for Pacquiao's WBO welterweight title and will be shown on HBO pay-per-view at the Venetian Casino under VADA drug testing rules. There is a rematch clause in the contract for Pacquiao, should he lose. Algieri, who is from Huntington, LI, will also get a percentage of the PPV returns.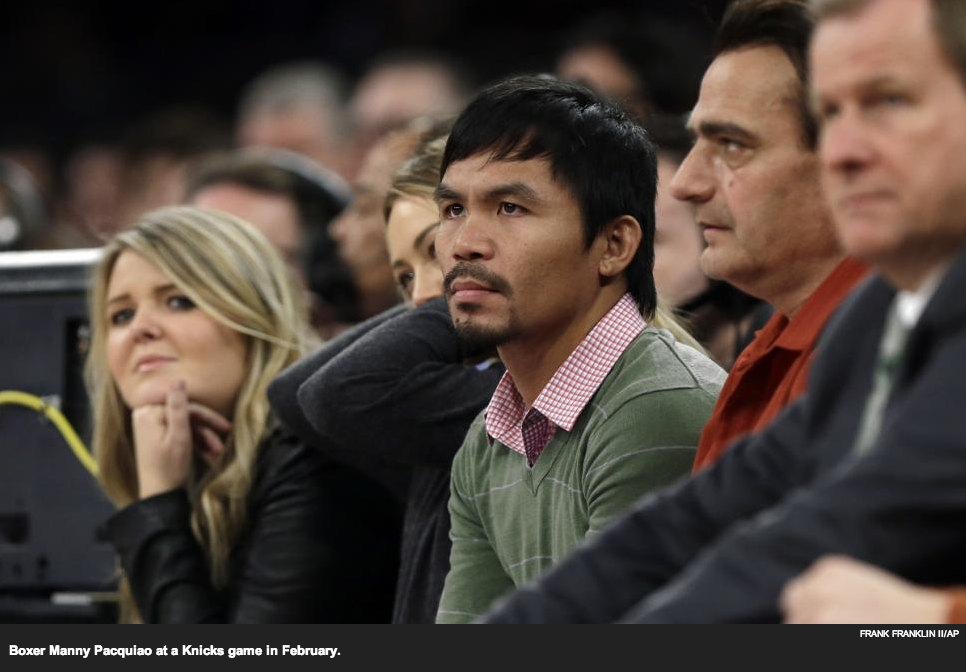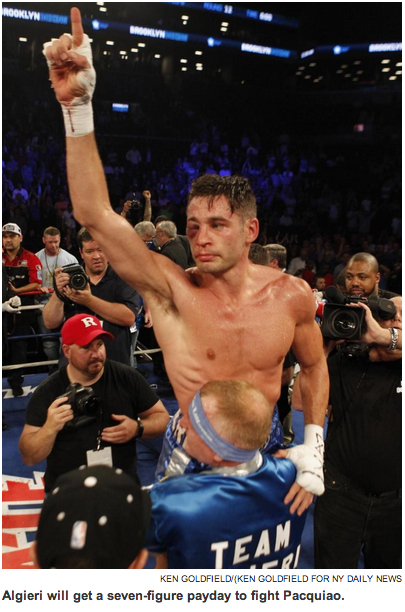 After making a career-high $100,000 in his last fight – an upset of Ruslan Provodnikov to win the WBO junior welterweight title that he used to pay off his student loans – Algieri will exceed that amount with a seven-figure payday to face Pacquiao.
"I wanted this fight," Algieri said in a statement released through his publicist. "This will change my life once again and I welcome the future. All of Team Algieri is very excited for this fight."
Those involved were less optimistic on Sunday night when the negotiations reached a standoff. Algieri balked at the initial offer on July 7, breaking off communication between himself and DeGuardia over the weekend.
DeGuardia said if Algieri (20-0, eight knockouts) didn't respond to the deal by Monday, he risked losing it to another fighter, such as Provodnikov. But on Tuesday afternoon, Arum said he had been assured by DeGuardia that a deal was imminent. And on Tuesday night, it was finally consummated over a cloud of cigar smoke in DeGuardia's Morris Park offices in the Bronx.
"In the end Chris is very happy with the money he got," DeGuardia said. "He's very happy with the offer that was proposed for him from the beginning. But we all worked together to come up and massage the numbers so that Chris would be happy and we'd be happy so we could make a fight take place."
The deal was brokered during an all-day negotiating session on Tuesday that became more doleary a test of endurance. DeGuardia, Algieri, his attorney Eric Melzer and fellow promoter Artie Pelullo- who has options on Algieri- met at DeGuardia's offices to hammer out the deal. The discussions started Tuesday morning and continued over helpings of Risotto and muscles and baked clams at Patricia's on Morris Park Avenue for lunch and concluded with DeGuardia and Pelullo lighting up cigars around 9 p.m. on Tuesday night after notifying Arum of the agreement, DeGuardia said.
"I certainly thought there was a possibility it would slip away because it was taking too long," DeGuardia said. "And that's the reality. But when I expressed to Chris the urgency that we get this deal done (TUESDAY) we all agreed that we were going to sit here in my office and eat in the Bronx and whether we had to eat breakfast or lunch together or sleep in this office, we were going to make a deal because we all wanted it to happen."