NEW YORK: MARCH 2, 2015
On Friday night, in front of a nationally televised audience over the ESPN2 network and a standing room only crowd, Joe DeGuardia's Star Boxing presented the 17th installment of the popular "Rockin Fights" series at The Paramount in Huntington , NY.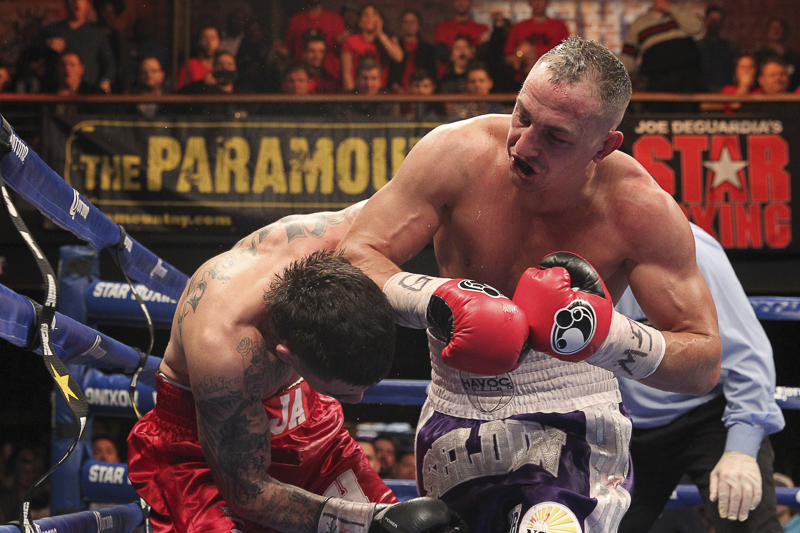 The ESPN "Friday Night Fights" main event saw undefeated Jr. Welterweight prospect Cletus "The Hebrew Hammer" Seldin successfully defend his WBC Silver International title with an impressive stoppage at 2:29 of the 5th round over a game and tough Johnny Garcia.
Seldin, 16-0 13KO's, Shirley, NY and Garcia, 19-3-1 11KO's, Holland, MI, went at each other right from the opening bell.  Both fighters scored with good shots and Seldin hit the canvas in what was ruled a slip but may have been a flash knockdown from a Garcia right
Seldin came out with both guns blazing in the 2nd round and rocked Garcia on more than one occasion.  Garcia to his credit never wavered and tried to answer back.
The 3rd and 4th rounds saw more of the same two way action with Seldin gaining the advantage much to the crowds delight as the fighters exchanged blows throughout.
Seldin hurt Garcia late in the 4th round with a big left hook and followed up with flurries of hard punches but the game Garcia tried to stand his ground and fight back.
The 5th round saw Seldin landing numerous monster shots to both the head and body of Garcia.  Garcia tried his best to fend Seldin off but the power of Seldin was just too much and the referee stopped the onslaught at 2:29 of round 5.
Both fighters gave it their all in a crowd pleasing fight that never lacked for action.
The semi final saw Raymond Serrano score a majority 10 round decision win over Jeremy Bryan by scores of 94-94, 97-91, and 96-92 in a Welterweight contest.  The win was Serrano's 3rd straight and saw his record improve to 21-2 9KO's.  Bryan on the other hand lost his 3rd straight, all 3 by eith majority or split decisions as his record dropped to 17-6 7KO's.
The bout was a tactical one throughout with each fighter scoring a knockdown.  Bryan dropped Serrano with a straight right hand near the end of round 3 and Serrano returned the favor with a left right combination in round 5.  Serrano seemed to carry the action for most of the fight.
In a pier 6 brawl between 2 unbeaten fighters Daniel Gonzalez, 8-0-1 3KO's scored a unanimous decision over Kenny Alvarez, 6-1-2, 3KO's.  The scores were 59-53 and 58-54 twice, all in favor of Gonzalez who dropped Alvarez in both the 4th and 6th rounds.
Former World Ranked Featherweight Luis Franco returned after a nearly two year layoff and looked very impressive in stopping a tough Osumanu Akaba in the 8th and final round.
The former Cuban Amatuer star was very sharp in dismantling Akaba dropping him twice in the first round.  Franco moves to 12-1-1 8KO's while Akaba drops to 24-8 17KO's.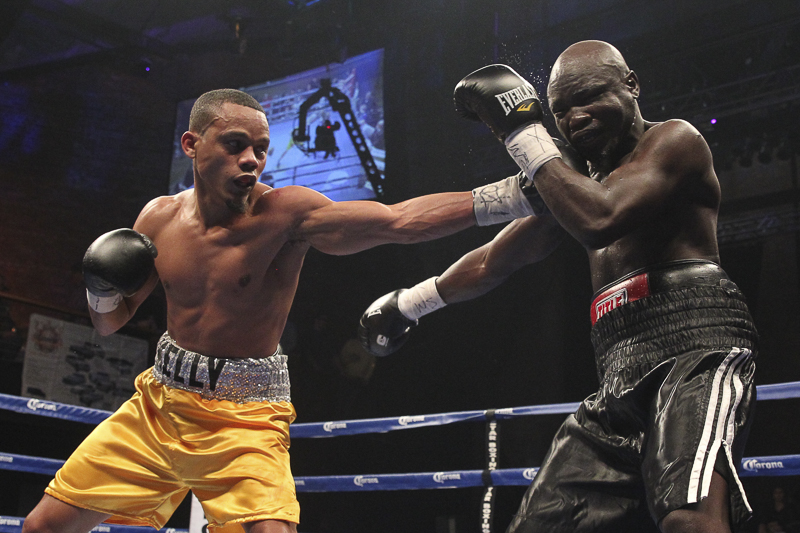 In a shocker Jamell Tyson, 4-11-3 2KO's scored a 1st round TKO over Alan Gotay, 8-2 4KO's.  Tyson dropped Gotay 3 times forcing the referee to call a halt to the proceedings.  The bout was a scheduled 6 rounder in the Lightweight division.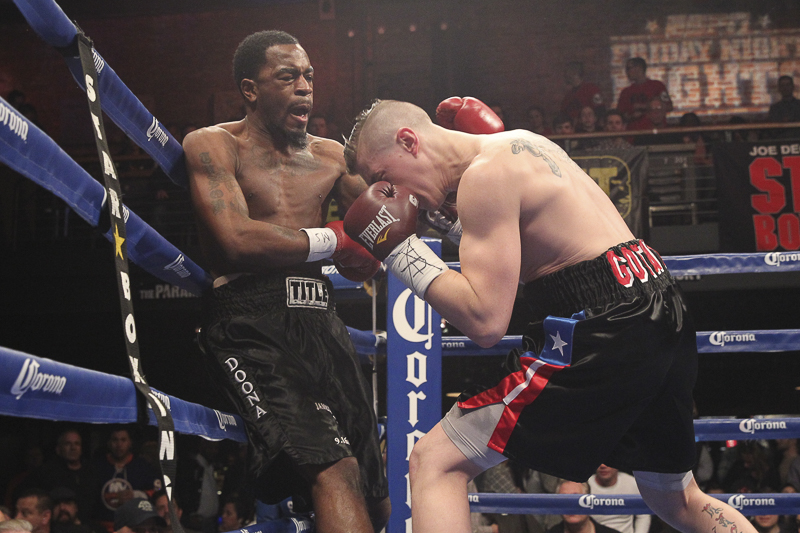 Johnny Hernadez remained perfect with a hard fought victory of a tough Rigoberto Miranda in a 4 round Featherweight bout.  Hernandez goes to 3-0 1KO while the tough luck Miranda drops to 0-4-2.
Promoter Joe DeGuardia summed up the evening this way "What a great night of fights.  Each kid fought their hearts out and the crowd was electric.  This was our 17th sellout at The Paramount in Huntington, Long Island and I truly believe we have the best venue and the best fans in the country".
Rockin Fights 18 will be the next Star Boxing event at The Paramount on April 18th and will feature Joe "The Irish Bomber" Smith in a 10 round Light Heavyweight contest against an opponent to be named soon.
ABOUT THE PARAMOUNT:
Opened September 30, 2011 this 1,555-capacity live entertainment venue, located in downtown Huntington, Long Island, New York, features; concerts, comedy, boxing, community and other special events in a club/theater setting.  With over 30,000 Facebook fans, The Paramount was recently ranked by Pollstar Magazine as the #24 highest attended club-venue worldwide (January-June 2013). A Ticketmaster venue, booked by Live Nation, TheParamount hosts nearly 200 events per year and in less than two years since its inception, has quickly established itself as the premier music venue onLong Island, NY. Some artists who have recently taken the Paramount stage include; Billy Joel, Pitbull, Don Henley, Willie Nelson, B.B. King, ZZ Top, Counting Crows, Primus, Matchbox 20, The Blues Brothers, Limp Bizkit, & many, many, more.
ABOUT THE FOX HOLLOW:
Nestled upon 8 private acres of Long Island's north shore is the Fox Hollow, which features a state of the art event venue, fine dining restaurant and an all-suite luxury boutique hotel. Owned & operated by the Scotto Brothers, their Above & Beyond philosophy in providing each & every guest with superior services and amenities is paramount. Visit the Fox Hollow online at www.TheFoxHollow.com & www.TheInnAtFoxHollow.com 
Official Sponsor of the Paramount Boxing Series, Camelot Limos is a family owned and operated business located in Nassau County, with over 25 years of professional experience; serving satisfied clientele since 1984. The owners of Camelot Specialty Limos are very active in the business and play a major role in the company's day-to-day operations. Camelot Specialty Limos, Inc. is an Accredited Member of the Better Business Bureau.  www.camelotlimo.com
ABOUT WBAB 102.3:
WBAB 102.3 is the home of Long Island's Classic Rock anchored by their Long Island Rock 'N' Roll Morning Show with Roger and JP.  For more information or to listen online, visit their website at
www.wbab.com and follow them on Facebook.com/1023wbab 
and on Twitter @1023wbab.
MEDIA CONTACTS
STAR BOXING
  Power Play International
      Your Social Media Marketing and Website Design Agency
      "Carrying Your Message Around The World"
ABOUT STAR BOXING ®
Star Boxing Inc. celebrated its 20th Anniversary in 2012. The company has produced some of the most exciting and memorable boxing events in recent history. Star Boxing continues to work with and develop a number of very exciting world champions, world rated contenders and young prospects. Star Boxing is proud that is has consistently brought credibility, integrity, and exciting fights to the boxing industry.  For more information on Star Boxing, visit their official website at www.StarBoxing.com and follow them on  Twitter @ Star Boxing and  Facebook /StarBoxing.
***All press releases are available in word and pdf documents.
Any attached Photograph(s) may only be used for news, information or promotional purposes and only for the period commencing on the date of this e-mail and ending 90 days later (the "License Period"). Any other use and any use after the License Period is strictly prohibited without permission in writing from Star Boxing, Inc. All inquiries should be addressed to Star Boxing, Inc., 991 Morris Park Avenue, Bronx, New York 10462.
Copyright © Star Boxing, Inc. 2011 All Rights Reserved.
0.7543859649122807
Star Boxing
Media and Public Relations