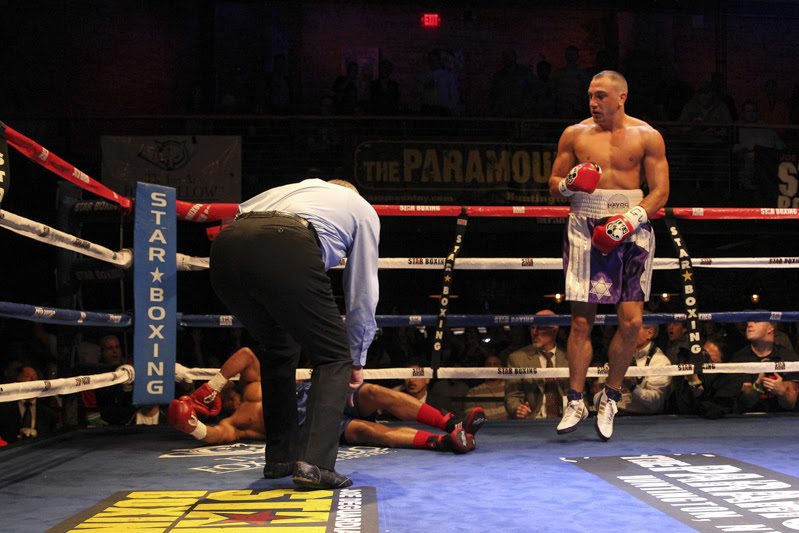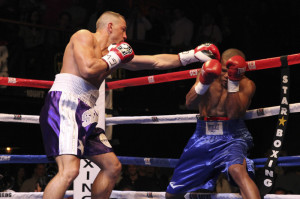 Before another packed house on Friday, Sept. 19th, at The Paramount in Huntington, NY, undefeated, fast rising, Jr. Welterweight prospect Cletus "The Hebrew Hammer" Seldin (14-0 11KO's Long Island, NY), blasted out spoiler Ramesis Gil with a sensational one punch knockout in the 2nd round of a scheduled 10 round Jr. Welterweight bout.
Both fighters came out aggressively in the first round with each scoring
hard shots and little to choose between them.  The 2nd round began with Seldin stalking Gil (8-9-5 5KO's Santo Domingo, DR) backing him up.  Seldin beat Gil to the punch and landed a thunderous right hand on Gil's chin.  Gil crumpled to the mat and was counted out giving Seldin his 11th KO in 14 fights.
The semi final 8 round Lightweight bout saw previously undefeated Alan Gotay (8-1 4KO's Huntington, NY) lose a shocking, upset decision to Hector Marengo.
This was your classic Boxer-Puncher match that saw Gotay constantly pressuring the moving Marengo throughout the fight.  Marengo countered Gotay's charges with sharp punches and scored a highly questionable knockdown in the 4th round that Gotay was dominating and in all likelihood was the deciding factor in the fight.  The action was fast paced over the 8 rounds and the final scores were 78-73, 77-75, 76-75 all for Marengo (7-8-4 4KO's Arecibo, PR).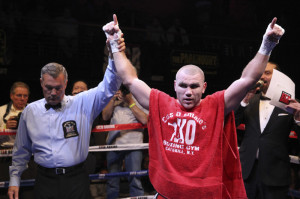 Undefeated Romanian Heavyweight Constantin Bejenaru (6-0 3KO's Catskill, NY) scored a convincing one sided victory over Tyyab Beale (9-6-1 3KO's Newark, NJ) in an action packed exciting 6 round Heavyweight bout.  Bejenaru was the busier of the two often landing huge blows that had the crowd oohing and ahhing. Bejenaru scored a knockdown in the 6th round that sealed the victory 60-54 on all three cards.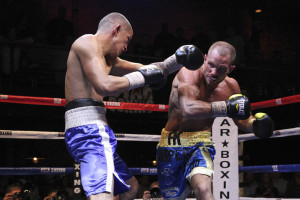 In an all out war local Jr. Welterweight Anthony Karperis (8-1 3KO's Hicksville, NY) scored a split decision victory over battle tested Jose Valderrama (4-8 3KO's Arecibo, PR).  These two young fighters went at it from the first bell standing toe to toe exchanging blows.  The 2nd round was a classic round as Valderrama hurt Karperis early in the round with a straight right hand but then walked into the same punch thrown by Karperis which badly hurt him.  Karperis jumped all over Valderrama looking for the early finish but Valderrama hung in there and had Karperis backing up at the end of the round as the packed house were on their feet cheering.
Valderrama scored a knockdown of Karperis in the 4th round with a beautifully thrown right hand but Karperis battled back as he had Valderrama pinned in the corner as the bell sounded to end the round. Two judges had it 57-56 for Karperis while the 3rd judge favored Valderrama by the same score.
Local favorite John Hernandez (1-01KO Huntington, NY) thrilled his large throng of fans by scoring an exciting TKO at the end of the 1stround over Dwayne Holman (1-3 Monclair, NJ) in a scheduled 4 round Lightweight match.  After a thrilling first round between these two young fighters, Holman was forced to retire at the end of the end due to an eye and nose injury.
The opening bout saw Ahmed Tuba (2-3 Israel) upset Courtney Penninton (7-2-1 4KO's Brooklyn, NY) in a 4 round Middleweight bout by unanimous decision 40-36 on two cards and 39-37 on the third card.
The bouts were presented by Joe DeGuardia's Star Boxing who have turned The Paramount in Huntington, NY into quite possibly the best fight club in the US.
Star Boxing, Inc. has been in operation since1992.  Star Boxing has worked to produce some of the most exciting and memorable boxing events in recent history. Star has continued to work with and develop a number of very exciting world champions, world rated contenders and young prospects. Star has consistently brought credibility, integrity, and exciting fights to the boxing industry.  For more information on Star Boxing, visit their official website at 

www.StarBoxing.com

 and follow them on 

twitter.com/starboxing

 and Facebook.com/starboxing 
ABOUT THE PARAMOUNT:
Opened September 30, 2011 this 1,555-capacity live entertainment venue, located in downtown Huntington, Long Island, New York, features; concerts, comedy, boxing, community and other special events in a club/theater setting.  With over 30,000 Facebook fans, The Paramount was recently ranked by Pollstar Magazine as the #24 highest attended club-venue worldwide (January-June 2013). A Ticketmaster venue, booked by Live Nation, TheParamount hosts nearly 200 events per year and in less than two years since its inception, has quickly established itself as the premier music venue onLong Island, NY. Some artists who have recently taken the Paramount stage include; Billy Joel, Pitbull, Don Henley, Willie Nelson, B.B. King, ZZ Top, Counting Crows, Primus, Matchbox 20, The Blues Brothers, Limp Bizkit, & many, many, more.
ABOUT THE FOX HOLLOW:
Nestled upon 8 private acres of Long Island's north shore is the Fox Hollow, which features a state of the art event venue, fine dining restaurant and an all-suite luxury boutique hotel. Owned & operated by the Scotto Brothers, their Above & Beyond philosophy in providing each & every guest with superior services and amenities is paramount. Visit the Fox Hollow online atwww.TheFoxHollow.com & www.TheInnAtFoxHollow.com
Official Sponsor of the Paramount Boxing Series, Camelot Limos is a family owned and operated business located in Nassau County, with over 25 years of professional experience; serving satisfied clientele since 1984. The owners of Camelot Specialty Limos are very active in the business and play a major role in the company's day-to-day operations. Camelot Specialty Limos, Inc. is an Accredited Member of the Better Business Bureau.  www.camelotlimo.com
ABOUT WBAB 102.3:
WBAB 102.3 is the home of Long Island's Classic Rock anchored by their Long Island Rock 'N' Roll Morning Show with Roger and JP.  For more information or to listen online, visit their website at
www.wbab.com and follow them on Facebook.com/1023wbab and on Twitter @1023wbab.
MEDIA CONTACTS
Star Boxing
pr@StarBoxing.com
Bernie Bahrmasel

  Power Play International
      Your Social Media Marketing and Website Design Agency
      "Carrying Your Message Around The World"
  40 Underhill Boulevard, Suite LL101, Syosset,  NY 11791
  Bus: 212.359.1608 |Cell: 516.924.1464 | Fax: 215.754.5050