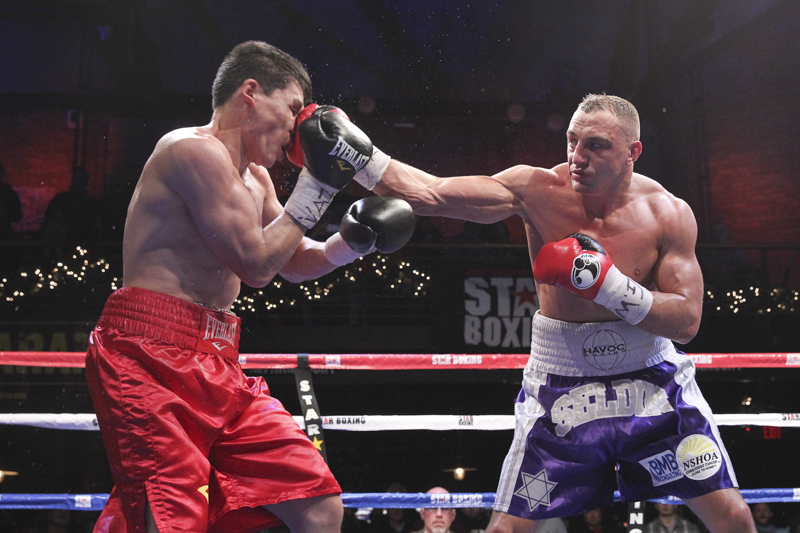 In front of a sold out standing room crowd last night, December 20th, at The Paramount in Huntington, NY, Joe DeGuardia's Star Boxing presented the 16th installment of the popular Rockin Fights series.  Undefeated power punching prospect Cletus "The Hebrew Hammer" Seldin, 15-0 12KO's, Shirley, NY, captured the vacant WBC International Jr. Welterweight title with a thrilling 9th round TKO over tough Bayan "The Mongolian Mongoose" Jargal, 16-6-1 11KO's, Arlington, in the main event scheduled for 10 rounds.
Seldin started like a house on fire as the bell rang for round 1 as he charged right at Jargal and dropped him almost immediately with a picture perfect right hand.  Seldin went for the early ending throwing everything at Jargal but Jargal withstood the onslaught and started firing his own shots back as the round ended.
The next three rounds saw toe to toe exchanges much to the delight of the pro Seldin crowd as each fighter landed numerous blows.  Jargal tried to mount a comeback midway through the bout as he chased down Seldin landing many combinations to the head and body of Seldin however,  Seldin continued to fire back at Jargal.  Seldin exploded as the bell sounded for round 7  dropping Jargal for the second time with a 3 punch combination.
The 2 combatants continued to throw everything they had at each but eventually Seldin would get to Jargal late in the 9th round of the scheduled 10 round bout and finally got the stoppage win at 2:46 of the round after a barrage of hard punches to the head.  The crowd roared its approval and gave both fighters a long standing ovation for the incredible battle they had just witnessed.  With the win Seldin captures the vacant WBC International Jr. Welterweight title.
The much anticipated rematch of their first encounter ( which took place onJuly 18th of this year on ESPN, a fight which ended prematurely due to an eye injury suffered by Jargal,) did not disappoint as these two warriors fought a high pitched battle in front of a screaming standing room crowd.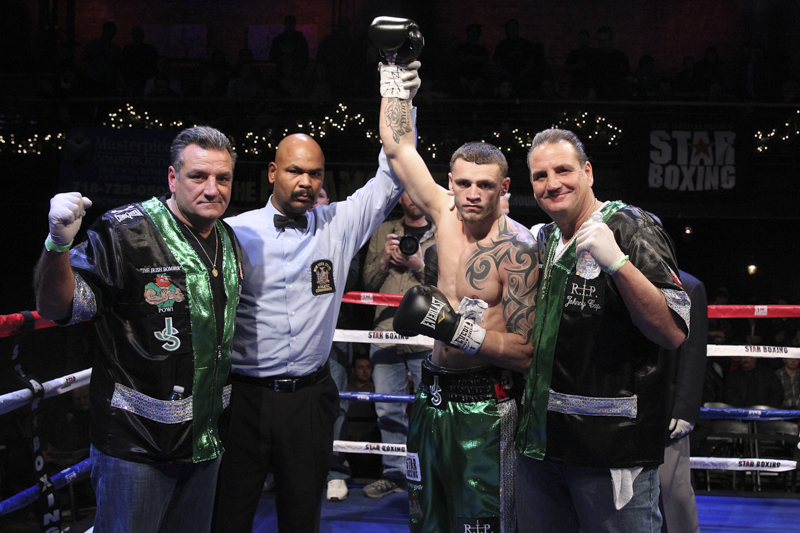 The co-feature saw the Paramount debut and recent Star Boxing signing Joe "The Irish Bomber" Smith, 17-1 14KO's, Mastic, NY, annihilate veteran Maxell Taylor, 18-10-1 8KO's, Baltimore, MD, in just 37 seconds of the 1st round of a scheduled 8 round Light Heavyweight bout.  Smith jumped right on Taylor backing him into a corner quickly and unleashed a non-stop flurry of hard punches to the head of a non-responsive Taylor forcing the referee to call a halt to the proceedings.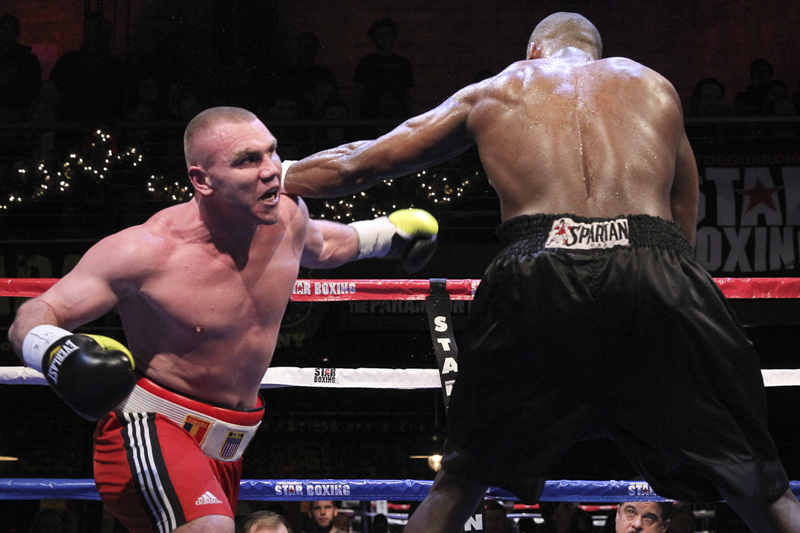 Other winners on the undercard included Constantin Bejenaru, 8-0 2KO's, Catskill, NY, defeating Jon Bolden, 6-10-1 5KO's, Brooklyn, NY by way of 6 round decision in an entertaining Heavyweight contest, Hicksville's Anthony Karperis moved to 9-1 3KO's with a much tougher than expected decision win over Ian James, 3-10-1 1KO, Brooklyn, NY over 6 rounds in the Lightweight division,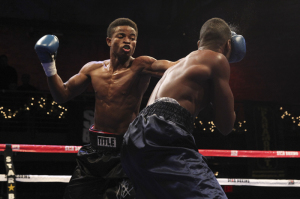 undefeated Wendy Toussaint, 6-0 1KO, Huntington, NY, registered his first knockout win as a pro as he stopped the usually durable Malik Jackson, 1-5-4, Newark, NJ, in the 2nd round of a scheduled 6 round Welterweight bout, and Huntington Lightweight Johnny "Hitman" Hernandez moved 2-0 1KO with a hard earned 4 round decision over tough Jack Grady, 0-1, Buffalo, NY.
Star Boxing chief Joe DeGuardia was thrilled with the outcome of the night as once again Star Boxing delivered the goods, filling the arena with incredibly energetic fans and with exciting, competitive action from top to bottom.
All photos courtesy Star Boxing photographer Ed Diller
ABOUT THE PARAMOUNT:
Opened September 30, 2011 this 1,555-capacity live entertainment venue, located in downtown Huntington, Long Island, New York, features; concerts, comedy, boxing, community and other special events in a club/theater setting.  With over 30,000 Facebook fans, The Paramount was recently ranked by Pollstar Magazine as the #24 highest attended club-venue worldwide (January-June 2013). A Ticketmaster venue, booked by Live Nation, TheParamount hosts nearly 200 events per year and in less than two years since its inception, has quickly established itself as the premier music venue onLong Island, NY. Some artists who have recently taken the Paramount stage include; Billy Joel, Pitbull, Don Henley, Willie Nelson, B.B. King, ZZ Top, Counting Crows, Primus, Matchbox 20, The Blues Brothers, Limp Bizkit, & many, many, more.
ABOUT THE FOX HOLLOW:
Nestled upon 8 private acres of Long Island's north shore is the Fox Hollow, which features a state of the art event venue, fine dining restaurant and an all-suite luxury boutique hotel. Owned & operated by the Scotto Brothers, their Above & Beyond philosophy in providing each & every guest with superior services and amenities is paramount. Visit the Fox Hollow online atwww.TheFoxHollow.com & www.TheInnAtFoxHollow.com 
Official Sponsor of the Paramount Boxing Series, Camelot Limos is a family owned and operated business located in Nassau County, with over 25 years of professional experience; serving satisfied clientele since 1984. The owners of Camelot Specialty Limos are very active in the business and play a major role in the company's day-to-day operations. Camelot Specialty Limos, Inc. is an Accredited Member of the Better Business Bureau.  www.camelotlimo.com
ABOUT WBAB 102.3:
WBAB 102.3 is the home of Long Island's Classic Rock anchored by their Long Island Rock 'N' Roll Morning Show with Roger and JP.  For more information or to listen online, visit their website at
www.wbab.com and follow them on Facebook.com/1023wbab 
and on Twitter @1023wbab.
MEDIA CONTACTS
STAR BOXING
  Power Play International
      Your Social Media Marketing and Website Design Agency
      "Carrying Your Message Around The World"
BOUT STAR BOXING ®
Star Boxing Inc. celebrated its 20th Anniversary in 2012. The company has produced some of the most exciting and memorable boxing events in recent history. Star Boxing continues to work with and develop a number of very exciting world champions, world rated contenders and young prospects. Star Boxing is proud that is has consistently brought credibility, integrity, and exciting fights to the boxing industry.  For more information on Star Boxing, visit their official website at www.StarBoxing.com and follow them on  Twitter @ Star Boxing and  Facebook /StarBoxing.
***All press releases are available in word and pdf documents.
Any attached Photograph(s) may only be used for news, information or promotional purposes and only for the period commencing on the date of this e-mail and ending 90 days later (the "License Period"). Any other use and any use after the License Period is strictly prohibited without permission in writing from Star Boxing, Inc. All inquiries should be addressed to Star Boxing, Inc., 991 Morris Park Avenue, Bronx, New York 10462.
Copyright © Star Boxing, Inc. 2011 All Rights Reserved.
0.7543859649122807
Star Boxing
Media and Public Relations