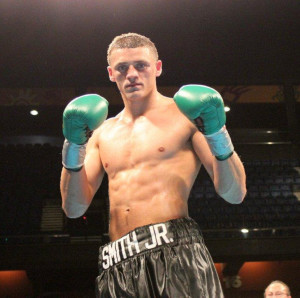 Founder and CEO of Star Boxing, Joe DeGuardia is proud to announce that he has entered into a long term promotional agreement with power punching Light Heavyweight Joe  " Irish Bomber" Smith Jr.,  of Long Island, NY.
Smith, "The Irish Bomber", turned professional in October of 2009 and has blazed a trail that has seen knockout 13 of his opponents on his way to compiling a record of 16-1 (13 KO's).  In his last fight on July 23rd, 2014, Smith knocked out Los Angeles California's Tyrell Hendrix, 11-5-2 4KO's, in New York City, NY.
The "Irish Bomber" was elated with the signing and stated: "I'm so excited to be with Star Boxing and fighting on Long Island at the Paramount ".
Smith is known for his tremendous power but has also displayed the ability to box.  He has had close to 50 amateur bouts that included titles as a Junior Olympian, NY Metro champion, and in 2008 Joe won the prestigious NY Daily News Golden Gloves Championship.  Smith is also a member of Local 66 Laborers Union and has already established a very big following.  He is managed and trained by the Jerry Capobianco, who stated: "With the help of Joe DeGuardia's team at Star Boxing I feel Joe Smith Jr will be another World Champion from Long Island ".  Joe wants to follow in the tradition of past great Irish/American fighters such as Jack Dempsey, Billy Conn, Mickey Walker, and Gene Tunney to name a few.
Star Boxing head Joe DeGuardia had this to say about his new signing "I've had my eye on signing Joe for a while as he is an exciting fighter who is a perfect fit for our fans at the Paramount.  The Light Heavyweight division is a very good one and we have had our share of champions in that division (among other, Star Boxing promoted Light-Heavyweight champs Antonio Tarver and Lou DelValle) and I'm looking forward to Joe Smith becoming another or our World Champion's in the very near future".
Smith will make his Star Boxing debut on December 20th, 2014 at The Paramount in Huntington, NY.  Smith hopes to follow in the footsteps of fellow Long Islander and current WBO Jr. Welterweight champion Chris Algieri who on November 22nd battles Manny Paquiao, live on HBO Pay Per View from Macau, China.  Algieri made The Paramount his home having fought there eight times which eventually led him to the mega fight he is in.  The Irish Bomber hopes to do the same and have the same success as Algieri did.
FOR ADDITIONAL INFORMATION:
STAR BOXING
Dottie Raven: 718-823-2000 /  [email protected]
ABOUT STAR BOXING ®
Star Boxing Inc. celebrated its 20th Anniversary in 2012. The company has produced some of the most exciting and memorable boxing events in recent history. Star Boxing continues to work with and develop a number of very exciting world champions, world rated contenders and young prospects. Star Boxing is proud that is has consistently brought credibility, integrity, and exciting fights to the boxing industry.  For more information on Star Boxing, visit their official website atwww.StarBoxing.com and follow them on Twitter @ Star Boxing and Facebook at Star Boxing.
  Power Play International
      Your Social Media Marketing and Website Design Agency
      "Carrying Your Message Around The World"
***All press releases are available in word and pdf documents.  Contact[email protected] if needed.***
Any attached Photograph(s) may only be used for news, information or promotional purposes and only for the period commencing on the date of this e-mail and ending 90 days later (the "License Period"). Any other use and any use after the License Period is strictly prohibited without permission in writing from Star Boxing, Inc.  All inquiries should be addressed to Star Boxing, Inc., 991 Morris Park Avenue, Bronx, New York 10462.
Copyright © Star Boxing, Inc. 2011 All Rights Reserved.