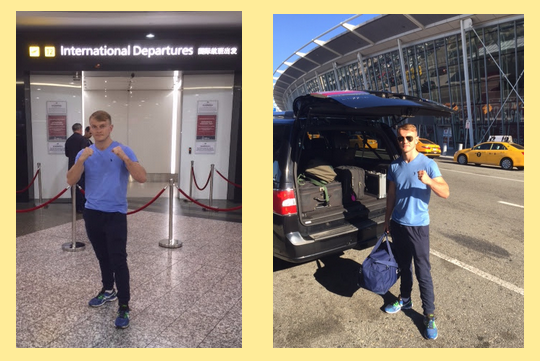 Star Boxing's undefeated sensation Zac Dunn just arrived at JFK Airport in New York today from his Australian homeland to begin final preparations for his IBO Super Middleweight championship title defense against Denis "The Momma's Boy" Douglin on Saturday night, October 24, at The Paramount in Huntington.
Dunn, the just-signed "Wonder from Down Under" will train at the nearby Academy of Boxing, a stone's throw where he will make his United States debut.
Star Boxing president Joe DeGuardia has announced an action-packed undercard to accompany the world title tilt for the next installment of the Rockin' Fights 21.  
The co-feature will pit undefeated Alicia Napoleon (4-0, 4 KO's/Lindenhurst, NY) in her Paramount debut against Kita Watkins (7-13, 1 KO/Tyler, TX) for the IWBF Interim Woman's World Title.
In a battle for Brooklyn bragging rights between two Star Boxing standouts, unbeaten Constantin Bejenaru (9-0, 3 KO's) will square off against Joel Shojgreen (8-1, 7 KO's) in an eight-round Cruiserweight contest.
Hicksville's Anthony Karperis  (11-1, 4 KO's), on the heels of his devastating KO win on the last Rockin' Fights show, returns in an eight-round Super Lightweight bout against Tyrone Luckey (7-4-2, 5 KO's/Middletown, NJ).
Queens native and crowd pleaser Danny Gonzalez (9-0, 3 KO's/Woodhaven, NY) puts his unbeaten streak on the line when he takes on tough Justin Johnson (6-9-4/Pittsburgh, PA) in a Junior Welterweight matchup.
Dunn, ranked #10 by the WBC, has reeled off 18 straight professional victories without defeat, including 15 by way of knockout. Fighting exclusively in Australia as a professional, Dunn will be making his American debut at The Paramount.
Dunn is coming off a snazzy 12-round decision over the well-thought-of Max Bursak, the winner of 31 career fights, to take the vacant IBO title on June 27 to secure the belt at the Royal Exhibition Building in Carlton, Australia. His previous five triumphs were all scintillating knockouts in seven rounds or less. Two ultra-impressive KOs were second round annihilations of Beibi Berrocal, a 14-time winner, on March 6, and Kyung-Suk Kwak on March 16, 2014, setting the stage for Zac's shot at the title. Dunn did not disappoint the Australian faithful.
Douglin (19-4, 12 KO's) is a southpaw fighting out of Marlboro, NJ, and comes off two straight knockout victories, his most recent a sixth round KO of Marcos Primera on July 11. The Momma's Boy has won five of his last six bouts. Douglin captured the first 12 fights of his pro career, mostly in the New York-New Jersey area as a product of Rivera Boxing Gym and Gleason's Gym in Brooklyn.
For more information visit official website at www.StarBoxing.com and follow on Twitter @ Star Boxing and Facebook.com/StarBoxing.
Contact:
Star Boxing: 718-823-2000, [email protected]
Cirillo World/John Cirillo, 914-260-7436, [email protected]
ABOUT THE PARAMOUNT:
Opened September 30, 2011 this 1,555-capacity live entertainment venue, located in downtown Huntington, Long Island, New York, features; concerts, comedy, boxing, community and other special events in a club/theater setting.  With over 30,000 Facebook fans, The Paramount was recently ranked by Pollstar Magazine as the #24 highest attended club-venue worldwide (January-June 2013). A Ticketmaster venue, booked by Live Nation, TheParamount hosts nearly 200 events per year and in less than two years since its inception, has quickly established itself as the premier music venue onLong Island, NY. Some artists who have recently taken the Paramount stage include; Billy Joel, Pitbull, Don Henley, Willie Nelson, B.B. King, ZZ Top, Counting Crows, Primus, Matchbox 20, The Blues Brothers, Limp Bizkit, & many, many, more. 
ABOUT MODELL'S SPORTING GOODS
Founded in 1889, Modell's Sporting Goods is the local family sporting goods destination that provides a convenient and compelling shopping experience for the athlete and fan in all of us.  Modell's offers customers an assortment of top brands in sporting goods equipment, footwear and active apparel for every level of play year round.   The retailer operates 153 stores located in New York, New Jersey, Pennsylvania, Connecticut, Rhode Island, Massachusetts, New Hampshire, Delaware, Maryland, Virginia and Washington, DC.  In addition towww.Modells.com, which services customers all over the country. 
ABOUT THE FOX HOLLOW:
Nestled upon 8 private acres of Long Island's north shore is the Fox Hollow, which features a state of the art event venue, fine dining restaurant and an all-suite luxury boutique hotel. Owned & operated by the Scotto Brothers, their Above & Beyond philosophy in providing each & every guest with superior services and amenities is paramount. Visit the Fox Hollow online atwww.TheFoxHollow.com & www.TheInnAtFoxHollow.com 
ABOUT CAMELOT LIMOUSINE:  
"Official Sponsor of the Paramount Boxing Series, Camelot Specialty Limos is a Family Owned and Operated Business located in Central Long Island.  At Camelot, Quality and Personalized Customer Service Truly Matters!  Visit Camelot Limos online at, www.CamelotLimo.com, to learn more about us.   At Camelot Limos, Your Chariot Awaits!"
ABOUT WBAB 102.3:
WBAB 102.3 is the home of Long Island's Classic Rock anchored by their Long Island Rock 'N' Roll Morning Show with Roger and JP.  For more information or to listen online, visit their website at
www.wbab.com and follow them on Facebook.com/1023wbab 
and on Twitter @1023wbab.
MEDIA CONTACTS
STAR BOXING
  Power Play International
      Your Social Media Marketing and Website Design Agency
      "Carrying Your Message Around The World"
ABOUT STAR BOXING ®    
Star Boxing Inc. celebrated its 20th Anniversary in 2012. The company has produced some of the most exciting and memorable boxing events in recent history. Star Boxing continues to work with and develop a number of very exciting world champions, world rated contenders and young prospects. Star Boxing is proud that is has consistently brought credibility, integrity, and exciting fights to the boxing industry.  For more information on Star Boxing, visit their official website at www.StarBoxing.com and follow them on  Twitter @ Star Boxing and  Facebook /StarBoxing.
***All press releases are available in word and pdf documents.
Contact [email protected] if needed.***
Any attached Photograph(s) may only be used for news, information or promotional purposes and only for the period commencing on the date of this e-mail and ending 90 days later (the "License Period"). Any other use and any use after the License Period is strictly prohibited without permission in writing from Star Boxing, Inc. All inquiries should be addressed to Star Boxing, Inc., 991 Morris Park Avenue, Bronx, New York 10462.
Copyright © Star Boxing, Inc. 2011 All Rights Reserved.
0.7543859649122807
Star Boxing
Media and Public Relations