Huntington, New York (August 29, 2014)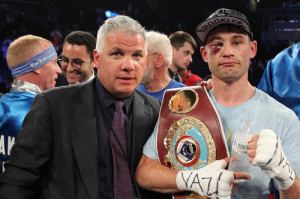 World champion boxer 
Chris Algieri
and longtime community leaders Anthony Mastrioanni and Thomas Jerideau will be honored as grand marshals when the Fifth Annual Huntington Awareness Day parade kicks off on 
Saturday, September 6
.
            First held in 2010, Huntington Awareness Day has become an annual tradition, with thousands of people turning out to celebrate the community's unity, diversity and solidarity.
            As in previous years, bands, floats, vintage cars, service groups and local merchants will join the march down New York Avenue through Huntington Station from West Hills Road to the pedestrian plaza at Olive Street. Following a brief ceremony, everyone will cross New York Avenue to the fair in the municipal parking lot between Railroad and Church Streets. The fair will include performances by local artists and booths offering crafts and services. The parade will begin at 11 a.m. and the fair will remain open until 5 p.m.
            This year's honorees span different generations and areas of expertise. Algieri, 30, grew up in Huntington and graduated from St. Anthony's High School, where he captained the varsity wrestling team and later served as an assistant coach. He graduated from Stony Brook University, with honors, with a degree in health care management and later earned a master's degree from the New York Institute of Technology. A kickboxer in college, Algieri won the International Sport Karate Association's Welterweight and World Kickboxing Association Super Welterweight Championships before retiring as a kickboxer to take up prizefighting.
            He currently has a record of 20-0 as a professional prizefighter, including a unanimous decision over ranked contender Emmanuel Taylor at the Paramount Theater in February and his biggest victory, on the nationally televised HBO After Dark®   June 14, in which he defeated
Ruslan Provodnikov  at the Barclays Center in Brooklyn to become the
WBO Light Welterweight Champion.  He is currently signed to fight the legendary
Manny Pacquiao on 

Nov. 22

 in Macau, China, for Pacquiao's world welterweight  title.
            Mastrioanni, 83, is a longtime Huntington Station resident who has had distinguished careers in the public, private and political sectors, most notably serving several terms as Huntington Republican chairman and as Suffolk County's public administrator. A Korean War veteran, he is a charter member and past national vice commander of the Navy Seabee Veterans of America and the Veterans of Foreign Wars. A graduate of SUNY Farmingdale (he also holds a master's degree from Long Island University's C.W. Post College), he served for more than three decades as a member of the college's council, including stints as its vice chair and acting chair. He is a former member of the board of directors of the Huntington Township Chamber of Commerce.
            Jerideau, 85, retired from the New York City Transit Authority more than 30 years ago, and since then has been active in many panels and civic activities, beginning with his appointment in 1982 to the Town's Mass Transit Citizen's Advisory Council, which he later chaired. He has been a member of the Huntington African American Task Force, the Huntington Station Revitalization Task Force and, for the past 21 years, a member and chair of the Town's Board of Assessment Review. He is also the longtime president of the Whitman Village Cooperative Board and has worked to help make the Huntington Awareness Day fair possible
            "Huntington is proud of the contributions Chris, Tony and Tom have made to our Town and we are thrilled that they will be leading the annual parade celebrating the community we all love," Huntington Supervisor Frank P. Petrone said. "I hope people will line New York Avenue to show their appreciation, and then visit the fair that gets bigger and better every year."
            "Through the generosity of our sponsors and from other donations, we have been able to keep all events and rides free of charge, so everyone in the community can enjoy this special day," said Dolores Thompson, who co-chairs the event with Supervisor Petrone.  "It is also gratifying to see that an event that started five years ago as a single expression of community pride has now become an annual tradition."
            Persons can obtain details about sponsorship or parade participation and download the forms at the website www.huntingtonawareness.org, They can also obtain updates about the parade and festival by "liking" the Unity in the Community-Huntington Awareness Day Facebook page or (www.facebook.com/HACPHuntingtonAwarenessDay) or by following @HuntingtonDay on Twitter.
            Those interested in becoming a parade sponsor, entering a float in the parade or reserving vendor space can also contact Dolores Thompson at 631-470-0636 or by sending an email to [email protected].
ABOUT STAR BOXING ®
Star Boxing Inc. celebrated its 20th Anniversary in 2012. The company has produced some of the most exciting and memorable boxing events in recent history. Star Boxing continues to work with and develop a number of very exciting world champions, world rated contenders and young prospects. Star Boxing is proud that is has consistently brought credibility, integrity, and exciting fights to the boxing industry.  For more information on Star Boxing, visit their official website at www.StarBoxing.com and follow them onTwitter @ Star Boxing and Facebook /StarBoxing.
***All press releases are available in word and pdf documents.  Contact [email protected]if needed.***
Any attached Photograph(s) may only be used for news, information or promotional purposes and only for the period commencing on the date of this e-mail and ending 90 days later (the "License Period"). Any other use and any use after the License Period is strictly prohibited without permission in writing from Star Boxing, Inc.  All inquiries should be addressed to Star Boxing, Inc., 991 Morris Park Avenue, Bronx, New York 10462.
Copyright © Star Boxing, Inc. 2011 All Rights Reserved.