NEW YORK – Trying to hype his title fight with Chris Algieri, Ruslan Provodnikov is talking about the rigors of his life in Siberia. It's seven days before fight night and it's going to be a blowout, they all say, because Provodnikov is so powerful and so intimidating and he has superstar trainer Freddie Roach in his corner and all the big-time connections.
Algieri, they keep saying, won't stand a chance in their match for the WBO junior welterweight title Provodnikov holds. Someone needs to do something to capture interest in the fight in order to sell tickets and drive up television ratings, so they get Provodnikov talking.
Provodnikov comes from the kind of rugged background that Algieri does not. Provodnikov's story is very prevalent in boxing, the long shot who overcame long odds to make it to the top.
Just getting out of Siberia was a success for Provodnikov, whose family was dirt poor and had very little. As a teen-ager, he drank, smoked, sniffed glue and ran with the wrong kids. His life was going nowhere fast, and he knew it.
An amateur boxing coach saw him, thought he had potential, persuaded him to try boxing and, in effect, saved his life.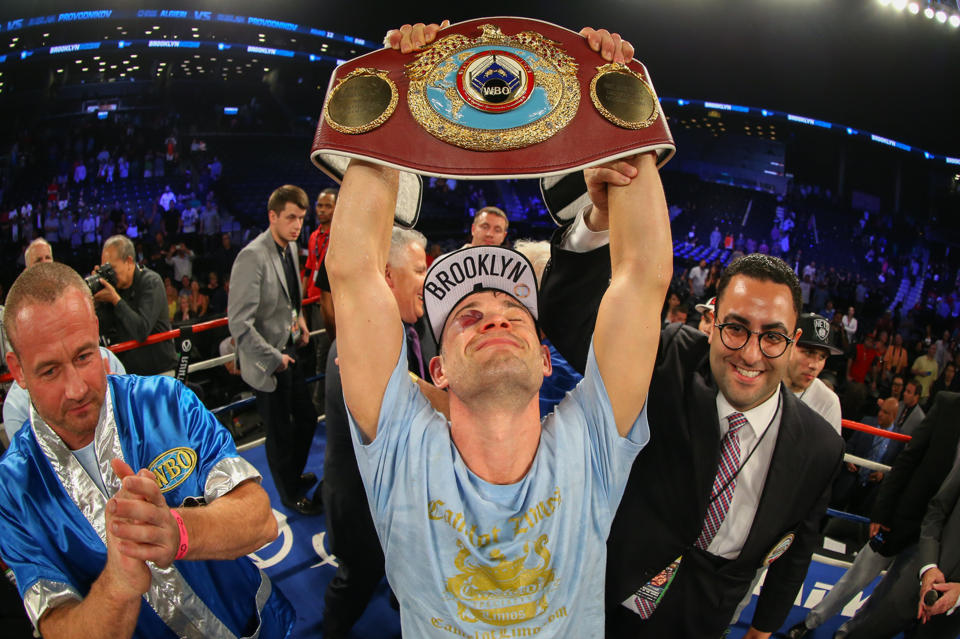 Chris Algieri soaks in the moment after winning the WBO junior welterweight title Saturday night. (Ed Mulholland/HBO)
Typical.
Chris Algieri, right, lands a big right hand against Ruslan Provodnikov on Saturday night. (Ed Mulholland/HBO)
Algieri did not need to be saved, at least not in the sense that Provodnikov did. He grew up on Long Island and attended Catholic school, so he did have nuns who prayed for his soul to be saved.
It's kind of the same thing. Sort of.
Algieri was a bit of a fat, nerdy kid when he was young, but he played all sports. He wasn't particularly good at any of them, at least not at first. One of his most notable accomplishments as a Little Leaguer was gnawing absent-mindedly on his baseball glove while daydreaming in the outfield.
He preferred to read and draw, and it turned out he was pretty good at drawing. He loves to work with pencil, and when he was a junior in high school, he did a magnificent sketch of the famous right hand punch that former heavyweight champion Rocky Marciano landed squarely on Jersey Joe Walcott's mug.
Algieri is an Italian-American and, like most Italian-Americans with even a slight interest in boxing, he worships Marciano.
If the truth be told, it's Provodnikov who is a lot more like Marciano than Algieri, however.
Provodnikov is a slugger who intimidates with his punching power. He has knockout power with either hand, and he displayed it in the first round on Saturday at the Barclays Center in Brooklyn, N.Y., when he dumped Algieri twice in the first round.
Of course, this fight would be easy. They were right. Algieri didn't stand a chance they'd said, over and over, and the first round simply proved it. He had no chance to beat this powerful, menacing knot of muscle.
Except that he did.
It was a long, strange road to the world title for Algieri. His grandfather, an engineer, helped hone his passion for drawing as well as his interest in boxing.
Every Tuesday, Chris would be seated next to his grandfather, watching the USA Tuesday Night Fights. On Saturday, they'd be together again, watching whatever fights were being televised.
"I grew to love it, but he wanted me to use my mind and get an education and become a doctor," Algieri said. "He told me never to box."
The No. 1 question Algieri gets during interviews is, "Why do you box?" And it's a complicated question. He's a purist, and has long loved the sport since those days of sidling next to Grandpa on the couch to watch the fights.
Algieri, left, was knocked down twice in the first round by Ruslan Provodnikov, but that did not stop him. (Ed …
Algieri was a two-time world champion in kickboxing, but always loved traditional boxing.
Life wouldn't have been whole without boxing.
"It's the ultimate test," he said. "You and someone else, you get in there with what you're born with. There's no equipment, no ball, no superstar teammate to bail you out if things don't go right. It's you, your heart, your mind and your desire. That's it. What can be better than that?"
Like most fans, he is entertained by a brawl, a back-and-forth slugfest with little or no attention paid to technique. But he mostly grew to love the technical aspects of boxing.
And because he studied it and paid so much attention to the nuances, he was confident he could handle Provodnikov.
For weeks, he told anyone who would listen – and few listened, as he was the B-side to Provodnikov – that he would win.
Algieri is tall and lean for a 140-pounder with a build not all that dissimilar from the late boxing legend Alexis Arguello. No one would confuse Algieri's power with Arguello's, but Algieri is well-schooled and can box inside or from a distance.
One of the things that made him so confident he'd beat Provodnikov was just that.
"I get asked over and over, 'How are you going to deal with Ruslan's power?' " Algieri said, grinning, a week before the fight. "They'd say, 'Have you seen what Ruslan has done to guys?' And I'd say, 'Yeah, I have, but I don't plan on having him do that to me.' I mean, I'm not going to go out there and try to win a slugfest with Ruslan Provodnikov. That'd be crazy.
"But he's got to get inside, and when he's on the outside, I can hit him but he can't hit me. As he's coming in, I can hit him."
Algieri is 30, but remains what he calls "a homebody," who literally shares a duplex with his family. His parents, Dominic and Adriana, live on one side. His brother, Michael, sister-in-law Stephanie, nephews Michael, Anthony and Dominic and dog Rocco live on the other. Chris lives downstairs.
He prepared for the fight with Provodnikov like it was his last shot. And so, even though he unexpectedly got dropped twice in the first, he didn't quit. Just because he's not a slugger doesn't mean he's not tough.
He knew he might never get another shot. Nothing is guaranteed in boxing.
Heck, nothing is guaranteed in life. He knows it's important to be prepared, but to have options if things don't follow the script. Algieri has a bachelor's in health care science from Stony Brook and a master's degree in nutrition from the New York Institute of Technology.
He has options.
He's long wanted to be a doctor, and still plans to attend medical school, though at 30 it would seem his window of opportunity is narrowing.
Algieri has a bachelor's degree in health care science and a master's in nutrition, and aspires to become a doctor. …
"I have a couple of years to fight, and the landscape of health care is changing dramatically now," he said. "It's something I've always wanted to do. It's always been a goal, a part of the plan, and I've really never deterred from that. I'm still in line for all of that.
"But health care has taken a major change recently. I'm trying to see where everything ends up. It's the scope of practice that scares me: What you're allowed to do, what's going to be covered by insurance, because at the end of the day, you have to make a living. … But ultimately, I want to help people and that's what it's all about: touching as many people's lives as possible."
He helped himself immeasurably on Saturday. He rallied from those knockdowns to outbox Provodnikov. He wouldn't be intimidated. He wouldn't back off. He'd sparred with Marcos Maidana; he knew what it was like to be punched by a guy who felt like he had a horseshoe in his glove.
Algieri defeated Provodnikov on a split decision Saturday to become the WBO light welterweight champion, for which he earned a $100,000 purse.
That purse will enable him to pay off his debt, student loans and all.
"With my boxing career, I've always had lofty dreams and goals, but I think in a lot of ways I was undershooting myself," he said. "But I've always said, if I could leave the sport with no debt, I'd be happy. I have multiple degrees, and they cost money. So I still have some debt. But after this fight, I'm going to be debt-free.
"This is going to be the first time I'm debt-free. Imagine that. I'm going to knock them all out after the fight, and I won't have a lot of money, but I'll be at zero. And that was my goal, to be at zero. From here on in, everything else is a bonus."
The boxing world marveled pre-fight at Provodnikov, who regaled reporters with tales of eating raw moose liver and raw fish. His Hall of Fame trainer, Freddie Roach, talked of his massive improvement, and how Provodnikov could give any fighter, even the best, a strong run for the money.
The highlight reel knockouts he'd scored became embedded in the mind.
Algieri was largely overlooked.
He suffered in silence. He smiled, said all the right things and then, when it mattered most, he did all of the right things inside of the ring.
It was a close fight that could have gone either way, and those who believe Provodnikov won have a legitimate argument.
But before criticizing Algieri, remember that everything Algieri said he'd do, he did.
And he still has plenty of options.
In a way, he also fulfilled another dream on Saturday.
You could say that by winning his world title, the guy who dreams of being a physician got his doctorate in boxing against Ruslan Provodnikov.
By Kevin Iole
Yahoo Sports