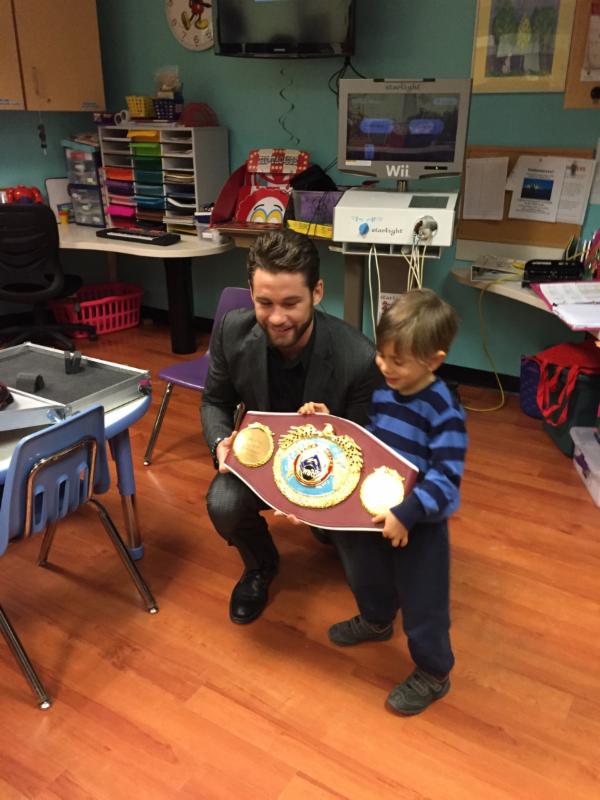 WBO Jr. Welterweight champion Chris Algieri returned to his roots yesterday spending the entire day visiting his alma mater Stony Brook as well as Stony Brook Children's Hospital.
Algieri started the day off by meeting Dr. Joseph Laver, Chief Medical Officer and Professor of Pediatrics at Stony Brook Children's Hospital.  Chris toured the facilities and also met Dr. Joan Alpers, director of Child Life programs at the hospital and embarked on a tour of the hospital eventually meeting some of their pediatric patients in the playroom with Dr. Michael Attard, a Chief Life specialist.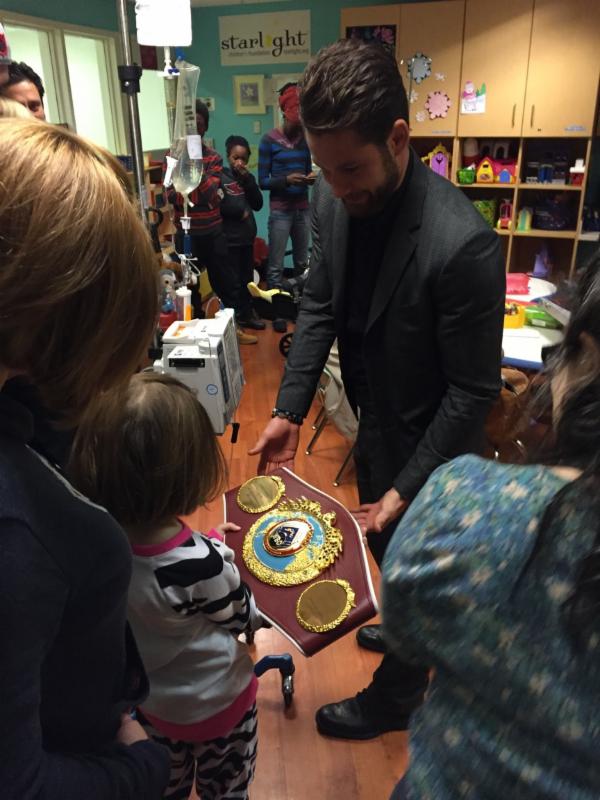 Spending time with the children in the playroom was perhaps the most rewarding part of the day as Chris met with many of the kids who are patients at the hospital.  In addition to meeting Long Island's most recent Champion, the kids were elated to see his championship belt and take pictures with him.  Chris spent time talking to the kids and cheering them up.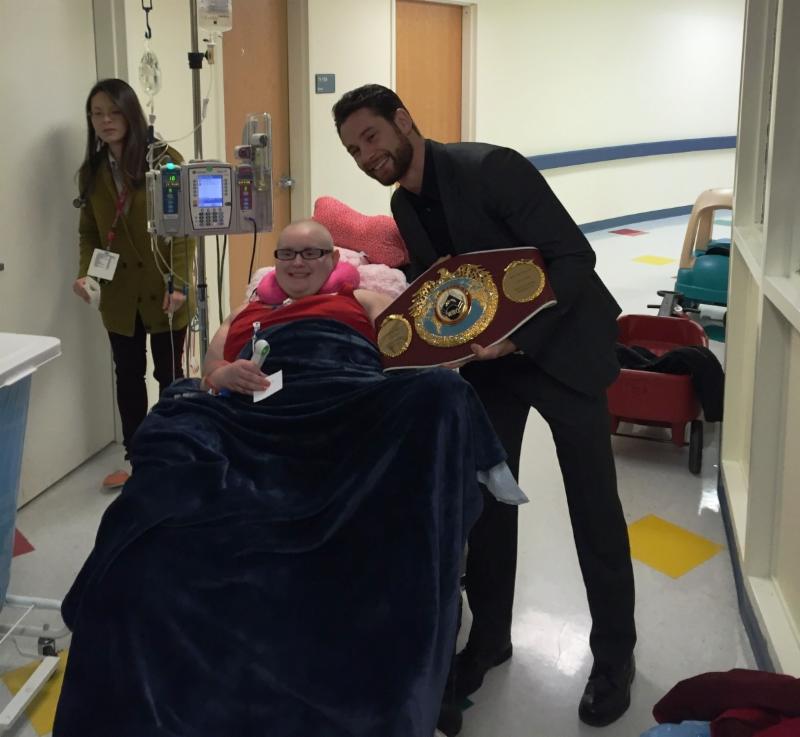 From there Chris hooked up with Dr. Craig Lehman, Dean for the school of Health, Technology, and Management and Professor of Clinical Laboratory services and concluded his tour with Dr. Andrew Wackett, Assistant Dean for Medical for Medical Education and Associate Professor of Emergency Medicine.
Later in the day Chris traveled to his alma mater, Stony Brook University for dinner and took in the Stony Brook-Hartford Division 1 Basketball game.
It was a very rewarding for Chris Algieri who maintains the importance of staying close with the community in which he was raised.
Star Boxing's Joe DeGuardia, Chris' promoter had this to say about the day's activities, "I'm pleased that Chris continues to give back to the community he so loves and cherishes.  It speaks volumes of his character and I am proud that he continues to devote his time to such charitable activities.  He's a true champion both in and out of the ring".
DeGuardia expects that we will see Chris Algieri back in the ring later this spring and expects to make an announcement soon as to his next fight.
ABOUT STAR BOXING ®
Star Boxing Inc. celebrated its 20th Anniversary in 2012. The company has produced some of the most exciting and memorable boxing events in recent history. Star Boxing continues to work with and develop a number of very exciting world champions, world rated contenders and young prospects. Star Boxing is proud that is has consistently brought credibility, integrity, and exciting fights to the boxing industry.  For more information on Star Boxing, visit their official website at www.StarBoxing.com and follow them on  Twitter @ Star Boxing and  Facebook /StarBoxing.
ABOUT THE PARAMOUNT:
Opened September 30, 2011 this 1,555-capacity live entertainment venue, located in downtown Huntington, Long Island, New York, features; concerts, comedy, boxing, community and other special events in a club/theater setting.  With over 30,000 Facebook fans, The Paramount was recently ranked by Pollstar Magazine as the #24 highest attended club-venue worldwide (January-June 2013). A Ticketmaster venue, booked by Live Nation, TheParamount hosts nearly 200 events per year and in less than two years since its inception, has quickly established itself as the premier music venue onLong Island, NY. Some artists who have recently taken the Paramount stage include; Billy Joel, Pitbull, Don Henley, Willie Nelson, B.B. King, ZZ Top, Counting Crows, Primus, Matchbox 20, The Blues Brothers, Limp Bizkit, & many, many, more.
ABOUT THE FOX HOLLOW:
Nestled upon 8 private acres of Long Island's north shore is the Fox Hollow, which features a state of the art event venue, fine dining restaurant and an all-suite luxury boutique hotel. Owned & operated by the Scotto Brothers, their Above & Beyond philosophy in providing each & every guest with superior services and amenities is paramount. Visit the Fox Hollow online at www.TheFoxHollow.com & www.TheInnAtFoxHollow.com 
Official Sponsor of the Paramount Boxing Series, Camelot Limos is a family owned and operated business located in Nassau County, with over 25 years of professional experience; serving satisfied clientele since 1984. The owners of Camelot Specialty Limos are very active in the business and play a major role in the company's day-to-day operations. Camelot Specialty Limos, Inc. is an Accredited Member of the Better Business Bureau.  www.camelotlimo.com
ABOUT WBAB 102.3:
WBAB 102.3 is the home of Long Island's Classic Rock anchored by their Long Island Rock 'N' Roll Morning Show with Roger and JP.  For more information or to listen online, visit their website at
www.wbab.com and follow them on Facebook.com/1023wbab 
and on Twitter @1023wbab.
MEDIA CONTACTS
STAR BOXING
  Power Play International
      Your Social Media Marketing and Website Design Agency
      "Carrying Your Message Around The World"
***All press releases are available in word and pdf documents.
Any attached Photograph(s) may only be used for news, information or promotional purposes and only for the period commencing on the date of this e-mail and ending 90 days later (the "License Period"). Any other use and any use after the License Period is strictly prohibited without permission in writing from Star Boxing, Inc. All inquiries should be addressed to Star Boxing, Inc., 991 Morris Park Avenue, Bronx, New York 10462.
Copyright © Star Boxing, Inc. 2011 All Rights Reserved.
0.7543859649122807
Star Boxing
Media and Public Relations