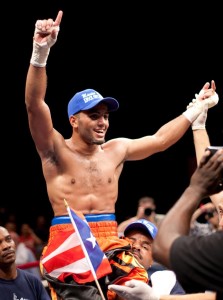 New York, NY (Jan. 21, 2015):
Philadelphia's own Raymond "Tito" Serrano scored a convincing 6 round decision victory over fellow Philadelphian Jerome Rodriguez last night, Jan. 20th, 2015, at 2300 Arena in Philadelphia, PA.
Serrano (20-2  9 KO's) dominated the action winning easily on all three scorecards, 59-55.  Under the promotion of Joe DeGuardia's Star Boxing and new manager Mark Cipparone and trainer Raul Rivas, Serrano is once again showing he can be a force to be reckoned with in the Welterweight division.
Serrano looked sharp throwing razor like combinations to both the head and body of Rodriguez (6-2-3 2KO's) who is not to be taken lightly.  Said promoter Joe DeGuardia, "I always thought Raymond could be something special and now that he is in a stable training environment and under good management I am hopeful that he will contend for a world championship someday soon".
This was Serrano's second comeback fight after taking nearly a year and a half away from the ring.  Star Boxing has plans to bring Serrano back as soon as possible in a featured attraction.
ABOUT STAR BOXING ®    
Star Boxing Inc. celebrated its 20th Anniversary in 2012. The company has produced some of the most exciting and memorable boxing events in recent history. Star Boxing continues to work with and develop a number of very exciting world champions, world rated contenders and young prospects. Star Boxing is proud that is has consistently brought credibility, integrity, and exciting fights to the boxing industry.  For more information on Star Boxing, visit their official website at www.StarBoxing.com and follow them on Twitter @ Star Boxing and Facebook /StarBoxing.
***All press releases are available in word and pdf documents.  Contact [email protected] if needed.***
Any attached Photograph(s) may only be used for news, information or promotional purposes and only for the period commencing on the date of this e-mail and ending 90 days later (the "License Period"). Any other use and any use after the License Period is strictly prohibited without permission in writing from Star Boxing, Inc.  All inquiries should be addressed to Star Boxing, Inc., 991 Morris Park Avenue, Bronx, New York 10462.
Copyright © Star Boxing, Inc. 2011 All Rights Reserved.