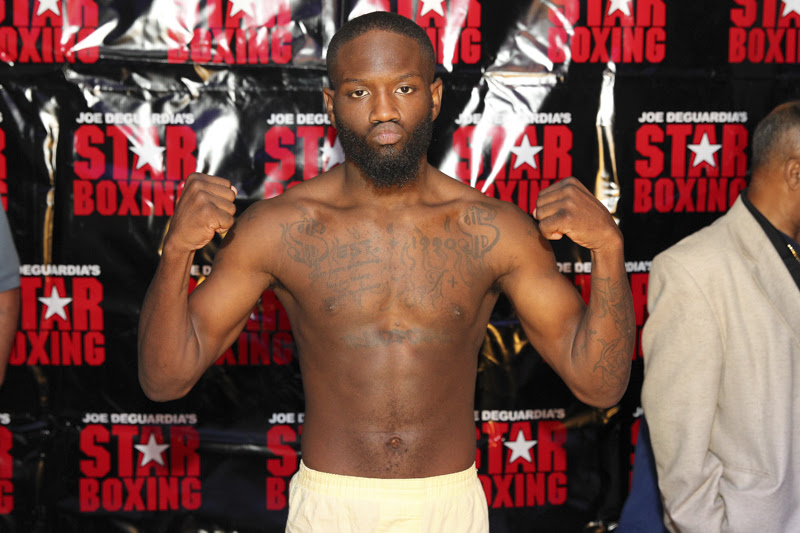 FOR IMMEDIATE RELEASE
Fresh off his spirited effort against three-division world champion Adrein Broner on September 6, Jr. Welterweight contender Emanuel Taylor (18-3, 12 KO's) opens up about the fight and his future aspirations which he candid about wanting the best fights and becoming a world champion early in 2015
1. After your performance with Broner, Your stock was raised. How do you feel after that performance?
I feel real good. I am ready to get back into the ring. Iam ready to show the world what I got. I have a huge fan base after that fight. They want to see me back in the ring ASAP. I am ready to get back in there in December or January.
2. You proved that you belong to be able to fight the elite fighters. You feel that you are fully entrenched to be mentioned for big fights?
I sure Hope so. I feel that I only should be fighting the fights on HBO or Showtime. I am ready right now to fight all the big dogs.
3. You have been mentioned for some big fights like Khan. He just signed to fight Alexander. Who are the guys that you are looking at to fight.
I would have liked that fight with Khan. I see Mauricio Herrera has a fight coming up (against Jose Benavidez). Jesse Vargas is another one. Zab Judah–I will fight him right now. Then we will from there. I see up and coming prospects Frankie Gomez. He is a good fighter. I would like to fight him as well.
4. Give me a perfect scenario for you. Do you see another fight before the end of the year? Where do you expect to be by this time next year?
Hopefully I get another fight before the end of the year or January. By this time next year, I will be a world champion. I will have a belt in the 140-pound division then go up to 147 pounds for the rest of my career.
(Co-Manager) Doc Nowicki–His management team and coaching team. We were struggling to get an opponent but we got hooked up with Star Boxing. Maybe we can get a rematch with Chris Algieri. Next year at this time, I would like to see Emanuel defending his world title
5. If you got a call tomorrow for a good fight at 147 pounds. Is that an issue.
Not at all. I fought the beginning of my career at 147. It wasn't that type of competition. But I can handle it.
(Co-Manager) Dave Price– We spar with the likes of Julian Williams, Kermit Cintron so we know he can handle 147 pounder's. We would like to fight the bigger guys at 140. No disrespect to Danny Garcia but we would love to get a shot at him.
6. How about a fight with your fellow Beltway resident Lamont Peterson?
Me and Lamont have similar styles. I have been in with him in the gym a couple times. I give him a lot of respect. I would like to get in the ring with him too.
7. How do you like this new fan base, new found fortune?
I like it a lot. I am starting to see it especially on my social media. It gives me more motivation to get another fight. It also makes me train harder.
8. Any final thoughts?
I want to thank D & D Management Team, my co-manager Felix Dialosio & my promoter Star Boxing for taking my career to the next level I want to shout my trainer, my father. I will have a world championship around my waist. I will have that pretty soon. I can't wait to get back in the ring on HBO or Showtime for my next fight and take it from there.  
FOR ADDITIONAL INFORMATION: 
STAR BOXING
Dottie Raven: 718-823-2000 /  [email protected]
ABOUT STAR BOXING ®    
Star Boxing Inc. celebrated its 20th Anniversary in 2012. The company has produced some of the most exciting and memorable boxing events in recent history. Star Boxing continues to work with and develop a number of very exciting world champions, world rated contenders and young prospects. Star Boxing is proud that is has consistently brought credibility, integrity, and exciting fights to the boxing industry.  For more information on Star Boxing, visit their official website atwww.StarBoxing.com and follow them on Twitter @ Star Boxing and Facebook at Star Boxing.
  Power Play International
      Your Social Media Marketing and Website Design Agency
      "Carrying Your Message Around The World"
***All press releases are available in word and pdf documents.  Contact[email protected] if needed.*** 
Any attached Photograph(s) may only be used for news, information or promotional purposes and only for the period commencing on the date of this e-mail and ending 90 days later (the "License Period"). Any other use and any use after the License Period is strictly prohibited without permission in writing from Star Boxing, Inc.  All inquiries should be addressed to Star Boxing, Inc., 991 Morris Park Avenue, Bronx, New York 10462. 
Copyright © Star Boxing, Inc. 2011 All Rights Reserved.